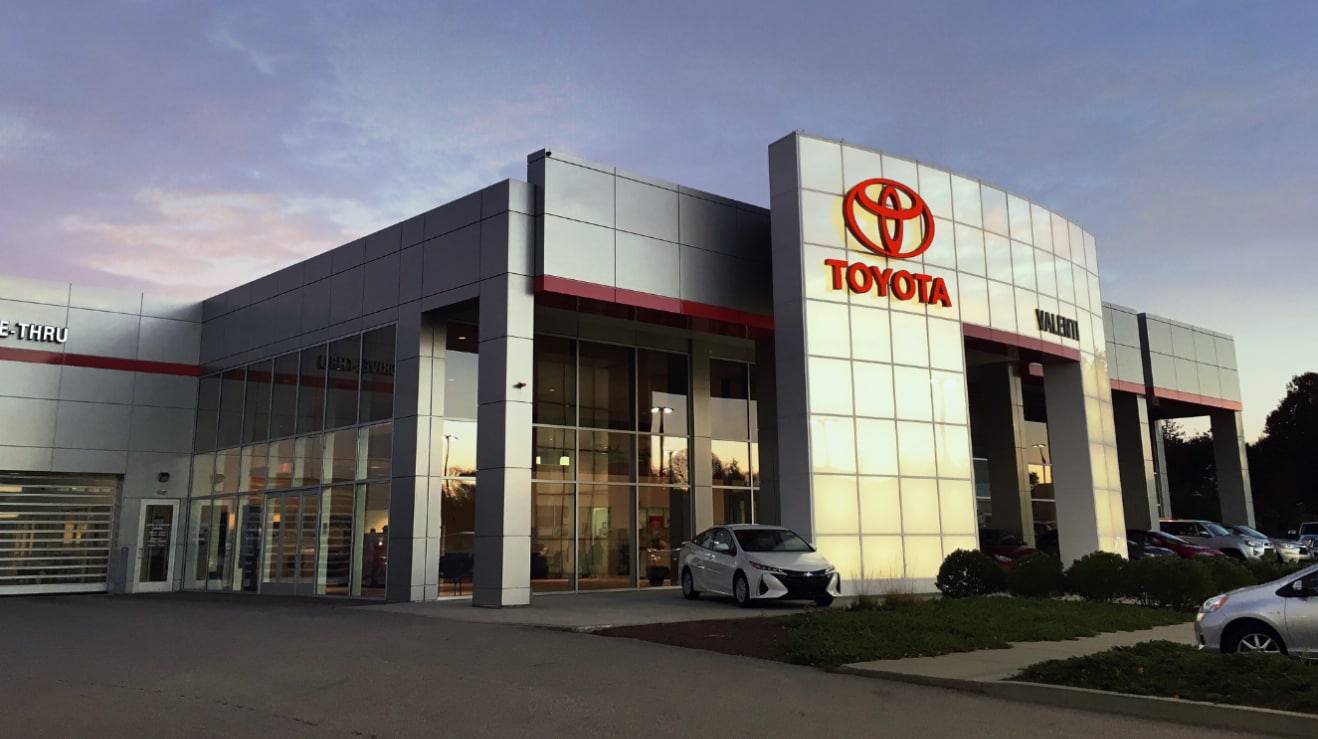 "The Valenti name has been associated with the automobile business for nearly 100 years."

The first Valenti automobile dealership was opened in the 1920's by Bob's father, Ferdinand Valenti Sr., in Wallingford, CT. In 1973, Mystic, CT became the second dealer location when Bob opened Bob Valenti Chevrolet there. Ten years later in 1983 as business flourished, Bob Valenti Chevrolet  moved to its current location on Jerry Browne Rd in Mystic.  During that same year, Bob Valenti opened Village Ford on Rte 1 in Stonington, CT. A year later, Village Ford relocated to its current location next to Valenti Chevrolet and was later renamed Valenti Ford.
In 1989, Bob awarded a Chrysler Dodge Plymouth franchise for dealerships' outstanding commitment to customer satisfaction.  This new franchise was located at Jerry Browne Rd next to Valenti Ford on the ever expanding complex. Then, in 1993, the Jeep Eagle brands were added to the Chrysler store creating an extremely unique one stop shopping destination where customers could purchase vehicles from the "Big 3" all at one location.
In 1986, carrying on the family tradition that his grandfather began 65 years before, Rob Valenti, Bob's son, joined the business.  In good Valenti fashion, Rob helped to further grow the business when he and his cousins purchased a Volkswagen dealership in Groton, CT.  Then in 2002, the Volkswagen franchise expanded to two locations- Old Saybrook on Middlesex Turnpike and Mystic at the Bob Valenti Auto Mall.  The Valenti Auto Mall now offered customers the opportunity to shop Ford, Chevy, Chrysler, Dodge, Jeep, Ram and Volkswagen all in one location.
Always looking for opportunities to improve the service and selection offered it customers, Bob Valenti purchased Valenti Toyota in 1998 and located the franchise at Dunn's Corners in Westerly, RI.  Now, the Valenti family could offer its exceptional service to both Connecticut and Rhode Island residents.  In 2008, Rob Valenti added Valenti Subaru to the Valenti family of dealerships locating it next to Valenti Toyota in Westerly, RI. 
 In 2016 Rob Valenti opened Valenti Stateline Motors in Pawcatuck where they specialize in affordable pre-owned cars for those on a budget.
 This brought the total of Valenti family dealerships to 8 in four locations. A far cry from the single bay shop that started it all those many years ago.
Keeping the small town family feel to all of his dealerships was easy for Bob as he kept his family involved in the business with his son, Rob, and daughters, Cheryl, Beth, and Jean, all taking active rolls throughout the dealerships.  Now, the next generation is continuing the family tradition with 6 of Ferdinand's great grandsons now serving as managers in the Valenti group. Robert Valenti is Gm of Valenti Toyota, Eric GoodWin is GM of Valenti CDJR, Joel Valenti is General Sales Manager of Valenti Ford, David Quirk is GM of Valenti Chevy, Scott Morrow is Director of Finance for the Valenti Family of Dealerships and Chris Quirk is the Chevy Parts Manager.
With all the years and all the growth, one thing has remained a constant- the Valenti commitment to customer satisfaction.
After nearly 100 years of providing customers with the Valenti value, honesty, integrity, and enjoyable experience, the Valenti family is grateful for your patronage and looks forward to working with you in the future.
"Pioneering the Growth of Valenti Family of Dealerships"
"OCTOBER 15, 2014 BY RESIDENT PRODUCTION"

Say the name Valenti and the immediate thought is car, say the word car and the name that comes to mind is Valenti. How did that region wide response come to be? And what is the secret to the success of the Valenti Car Dealerships? Same answer to both questions - Bob Valenti!
When asked to account for the overwhelming success of his Auto Dealerships, 81-years young Bob Valenti without hesitation answers, "Being in the right place at the right time and making the right decisions." Modest to a fault, that success is more based on Bob's incredible work ethic, honesty, compassion, and commitment to the customer.
The year is 1946, WW II has just ended, assembly lines that turned out the tanks, artillery, and arms that supplied our Troops are now turning out the first cars in five years, In Wallingford, Connecticut, at a Dodge-Plymouth Dealership owned by his Dad, Fred Valenti, 14-years young Bob Valenti worked at the dealership in the morning and attended high school in the afternoon. "I can never be too thankful for how I was raised." Bob reflected, "Dad instilled that nothing came to you - you had to labor to earn it."
That year the Valenti Dealership sold 28 cars, today the Valenti dealerships sell well over 500 cars per month. Obviously, the instilling of a strong work ethic proved its worth.
Working side-by-side with his brother Fred Jr., Bob took on more and more responsibility from his Dad. Brother Fred continued his schooling in business, while Bob mastered the intricacies of engine and body repair at Wilcox Technical School, and together they grew the Family Business. When Dad's health declined, a 23-year old Bob and his brother took over running the dealership.
In 1955, the Valenti family was awarded a Chevrolet dealership. Sales took off, but due to far more than just a booming 50's economy. "Selling a new car to a person is only the first step in establishing a lasting relationship with a buyer. What has to follow is standing behind the product, providing the best of servicing, and doing all at as fair and reasonable a price as possible. Do that and you have a relationship that continues, the client comes back and sends friends and family. After decades in the business, we have reached a point where returning, not new, clients are the greater majority of our buyers," Bob states with obvious and justified pride.
In 1972, Bob was traveling to a national dealership owners meeting and struck up a conversation with Bud Santin of Mystic while in-flight. Bud told Bob that his brother, Joe Santin might be interested in selling his Chevrolet/Oldsmobile dealership located along the upriver side of the Drawbridge.
Wasting no time, Bob journeyed to Mystic, immediately found a fellow soul in Joe, and fell in love with the area. In relating the story, Bob smiled broadly in remembrance, "It was a kinder, gentler time. The contract that completed the sale was on a single sheet of 8 x 11 paper!" And thus, the Valenti name came to Mystic.
Two years of commuting from Wallingford six-days-a- week with four growing children proved arduous and time consuming. In 1975, Bob and family set forth from Wallingford and established roots in Stonington. Love of that community and service to it continues to this day.
One of the first to truly grasp the historic value of the Seaport, Drawbridge, and environs, Bob knew that the blossoming of that potential would be stymied by the location of his dealership. That combined with his having acquired dealership rights to market the Chevrolet and Ford products sent him looking for a location to combine all with state-of-the-art showroom and service facilities. Perhaps, this is where Bob's reference to "right time, right place, and right decision" emanates from.
A ten acre parcel of land- locked property behind the Stonington Historical Society's Home on Route 27 along Route 95 was for sale. Chemical Bank of New York had foreclosed on adjacent property that bordered on Jerry Brown Road in Mystic, and Bob went out on a limb and purchased both. The result is the unique and beautifully situated multi-maker auto dealership that exists today. Soon to be added to that were the highly successful Valenti Toyota and Subaru dealerships in Westerly RI, and the adding of the legendary Jeep in Mystic, in addition to Chrysler Dodge and Volkswagen.
An amazing career, and an astonishing history that links to a Nash dealership owned by his father in the 1930's. And just as amazing is what Bob Valenti gives back to his community when not in the showroom. The National Historic Treasure Palmer House in Stonington would have gone to rack and ruin had not Bob purchased and restored it prior to it being taken by the Stonington Historical Society. Stonington enjoys fiscal security today due to Bob's tenure as member and Chairman of the Stonington Board of Finance. His charity work is legendary.
Bob is now retired. Son Rob has taken on the responsibilities learned via his Dad. Daughters Beth, Cheryl, Jean and spouses Bill Goodwin, Tom Quirk and Bruce Morrow, hold key management positions - still a Family Business! Bob and wife, June's extended family boasts 17 Grandchildren and 10 Great Grandchildren.
When asked what he's driving? Bob answers, "My current favorite ride is my Corvette convertible, my best ride has been life."
A great story, a great man - Made in America.